…a great man.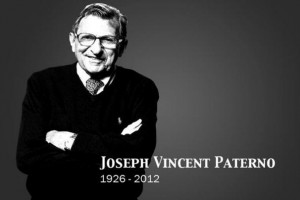 This morning my friend Paula and I set out for State College, PA. The two of us decided yesterday that we needed to be there for the viewing of Joe Paterno. Paula was able to juggle her schedule and I had a day that was wide open due to recently being downsized again.
If I was going to take this road trip, Paula was the perfect friend to make the trip with. She's probably the funniest friend I have and I knew that it was the kind of day that was going to require laughs to help us get through it.
We arrived in State College, to our surprise, without encountering any major traffic. This came as a surprise as well as the ease of finding a parking space. We parked at the Bryce Jordan Center and schlepped along to the Pasquerilla Spiritual Center. On our way we ran into Coach Bradley just outside the Forum. Paula managed to give him a pat of support on his back and he looked at her and gave her a sincere thank you. After seeing him we got to our destination only to realize that we were severely under dressed and we each were separately wondering why everyone was so dressed up. Then we took a look at the faces in the crowd and we realized that we had just crashed the VIP line. Leave it to us to find the wrong line. We continued walking and saw many players and coaches. We got to the end of the VIP line and asked the campus police where we should go to get in line. They directed us to another side of the building. When we arrived there we simultaneously realized, "We've found our people!" This was the line for the general public and they were dressed like us. Basically decked out in layers in their warmest PSU gear.
I looked around and pointed out to Paula that I could see the door. We were totally amazed, it just about noon and we actually arrived what seemed to be early. Yay!!! Early is really relative when you consider it was about 2:15pm when we finally stepped foot inside the building. How do I know the exact time, well….the lady behind us, who was there stag, kept us updated every step of the way. Once inside we waited in the 'holding area' for another 15 minutes and then we made our way to the hushed lobby area where we serpentined a bit until we reached the sanctuary. When we immediately walked into the lobby area Jay Paterno walked by, looked at us and thanked us for coming. This was just amazing when you consider he spent the morning in NYC doing the morning show circuit.
Once in the sanctuary you could have heard a pin drop. It was very quiet and somber. There was a lone photo of JoePa to the left of the closed casket and an honor guard, one former and one current player, on either side of the casket. Paula and I walked up together to pay our respects. On our way out we again walked past Jay who was talking with someone. We were amazed that he was still there and interacting with folks.
After leaving the building we headed downtown to get something to eat, grab a few things and then we headed back toward the car. Of course there was a much needed pit stop at the Creamery on the way to the car. We felt that we just couldn't leave town without some Peachy Paterno. So five half gallons later we were on our way. No…not all five were that flavor. But three were!
I've been told that at different times during the day the line to pay your respects was up to a mile and a half long.  Getting in line so early was truly a blessing as we had to make the three hour trek back home.
I'm so glad we were able to go today.  It's a day that I will remember forever.
Here are a few photos we took during the day:
JoePa Statue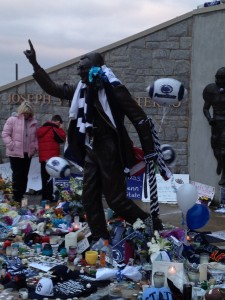 Stadium Flag Half Staff