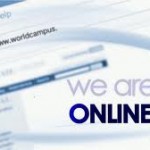 After a lot of phone calls and emails I am finally a student of Penn State's World Campus!  I am a week late as classes started last Monday, but I've spoken with my professor and I'm ready to go. 
I'm excited and nervous at the same time. I'm ready to dive in and get to work on completing my degree and taking some interesting courses.  I'm nervous because I've never had kids while being a student.
I was looking for a new challenge.  This will do just fine.