I paid for these items?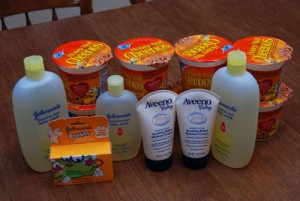 First let me say that since June I've been doing a lot more couponing than ever.  I've always clipped coupons and looked at the weekly ads, but now I do a lot more.  I read blogs and get great deal ideas as well as info about free and discounted items.
As much as I like to save, I have to admit that this takes time.  Some weeks, a lot of time.  But it's well worth it.  We have saved a lot of money over the past few months.  With me not working I feel like, right now, this is my way of contributing to the family's bottom line in a positive way.
With all that said, everything in this photo cost me a whopping $2.17.  You read that correctly, it was only two dollars and seventeen cents.  I got all of it at Target.  This is probably my biggest savings since I started doing this and I am thrilled. The original price of everything was just over $37.00.  I'd say my time was well spent.
Tomorrow is another big shopping day as our local Kmarts are doubling coupons up to $2.00.  Last night I spend two hours getting my list and coupons together.  Tomorrow Rylee and I will be there when the doors open as the good deals seem to go quickly.
Stay tuned because I may just have another post like this one as a result.