Happy New Year!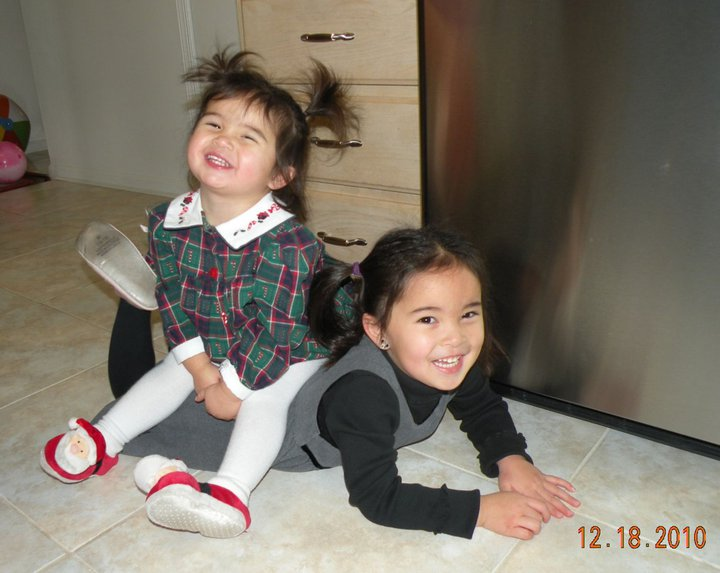 I hope everyone had a fun time ringing in 2011.  We sure did.  We had a really fun time with friends while the girls slept through it all.
I thought I'd start off a year with a quick update on the fam.
Rylee is three and a half and is just a sponge for information.  She is having a fun time learning about the letters of the alphabet at daycare.  Every two weeks they focus on a different letter.  They don't go in any order and this week they are working on the letter 'B'.  We spend time at dinner each night talking about what words start with the current letter.  I think Rylee even amazes herself at how many words she knows that start with the letter of the week.
She even has homework associated with the letters.  She brings home her "letter bag" and she goes around the house looking for things that start with the current letter.  She puts them in the bag and takes it back to 'school' to share with the class.  This is something she really enjoys doing.  She also has a paper she brings home with the letter on it and has to decorate it with items that start with that letter.  I have a feeling at the end of the year she will bring home a booklet with the entire alphabet in it.  I can't wait to look through it with her.
Rylee is VERY much into Disney princesses right now. I know many of you are cringing as you read this, but being Disney fans we go with the flow.  In her dress up chest she has quite a few well loved princess dresses.  She also has a brand new Sleeping Beauty dress, thanks NiNi & Yiya!  Rylee loves to get up on a weekend and put on a princess dress for the day.  Her current favorite princess is Belle.
Brynn is catching on to the princess fun as well.  Her current favorite is Ariel (aka The Little Mermaid) she always picks out Ariel when it's time to play with anything princess related.
NiNi & Yiya were in the spirit of things this Christmas.  Their presents were all wrapped in princess paper and the gifts were all princess gifts.  The two of you had such a fun time opening them.  This week you are both wearing the fun princess outfits that they gave you too.  What a fun way to kick off the year!
Brynn has really adjusted to daycare.  As a matter of fact she really enjoys it.  When she was sick a few weeks ago, she wanted to stay when we dropped off Rylee.  Her teachers think she's a love.  They are always telling me how much of a help she is too.  She really enjoys cleaning up.  I'm trying to make that carry over at home.
Bill is pretty busy at work these days.  He has his regular work and he's also part of a special project this year.
I am still enjoying my job and the people I work with. I'm hoping that they new year brings more opportunity for me at work.  I'm up for a new challenge.  We'll see how that plays out soon enough.
We are in the process of planning vacations for the year. That's always a fun distraction!  Stay tuned to see what fun we have as the year goes on.
In the meantime I can't believe it's time to plan Brynn's second birthday party!