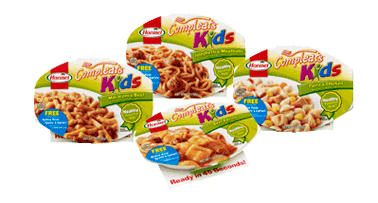 I received four samples of Hormel's latest kids creation from SheSpeaks.com.  This is a site where I'm registered and I get to try new products and give feedback.  My girls have tried two of the four samples that were sent to us and the results are split. 
Both girls loved the Macaroni & Beef meal and both were less than thrilled with the Ravioli meal.  Since they are so young I wasn't able to have a big conversation surrounding this, but the older one did say that she really enjoyed the Macaroni & Beef meal.
I checked for them at my local Wegmans, but they aren't carrying them yet.  I checked the Hormel website and it seems that there aren't any local stores that have these new products yet. I can't wait till they arrive because there are those days that these would be great to have to toss into their lunches for daycare.