Sunday I returned to Target and got all this……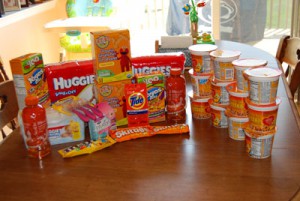 For only $14.89.  The original cost of all this was $63.12.  Definitely worth my time to get the coupons, wouldn't you say?
See those twelve cups of Honey Nut Cheerios, each of those cost $1.00 each.  I however got them all for free!!
Definitely a great trip to Target especially when you realize that this total included two packs of Huggies Diapers.
I also went to Kmart for their Super Doubles event and got all this…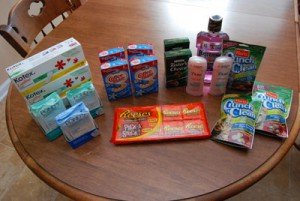 For only $2.23! The original cost was about $56.00.
Yes, there are cat treats there and we certainly do not have cats due to a few of us being allergic.  But they were free and will definitely find their way to a home that does have a cat or two.
Tomorrow I'm stopping at both Target and Kmart again with my mom.  Can't wait to see what bargains we discover!